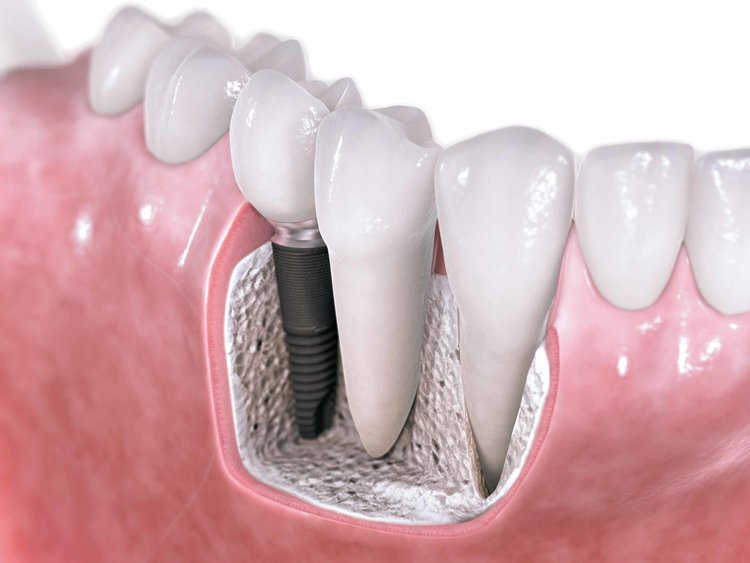 26th April 2019
What are the benefits of Dental Implants?
What is a Dental Implant?
Dental Implant's are artificial roots that serve as a replacement for missing teeth. Research indicates that dental implant's bi-compatible surfaces actually stimulate the required fusion with the bone. Once that has been achieved, the crown, bridge or full tooth replacement can be fixed to the implant to feel and function like natural teeth.
Can anyone have Dental Implants?
Good health is the primary deciding factor. There are some medical conditions where implants will not be appropriate. Diabetes, Osteoporosis and high blood pressure for example, can all affect the success of dental implants. Smoking can cause problems with the healing process, so other options maybe more suitable. No matter your age, the prospects of success of a Dental Implant is virtually the same.
Why are Dental Implants used?
There are many benefits of restoring missing teeth with dental implants over other options which include:
Closest replacement to your natural teeth.  Implants are strong and stable, look, feel and function like natural tooth. Other options may interfere with everyday activities such as eating, smiling and speaking.
A long-term solution. Dental implants can last for a number of years when properly placed and cared for over time.
Carrying out everyday activities. No need to feel uncomfortable embarrassed or worry about missing teeth. Implants are fixed options that that will not limit your ability of everyday activities and you no longer need to worry about loose dentures that will fall out/move when you talk, eat or laugh.
Maintaining healthy bone. Leaving empty spaces in your mouth after losing one or more teeth can lead to natural bone loss. When it is not being used to support a natural tooth, the jawbone deteriorates, losing its strength and firmness. Dental implants preserve natural bone and prevent rapid bone loss at sites with missing teeth.
Keeping your teeth in your mouth. Dental implants allow you to keep your teeth in your mouth and there is no need to remove them after meals or at bedtime.
Speech.  It may be that you find if hard to adjust to removable dentures and sometimes it can be a struggle to pronounce everyday words.  Implants function like natural teeth and therefore speech is unaffected.
Eating.  Enjoy your favorite foods without hesitation, implants allow you to bite naturally into any foods and unlike dentures you can experience the full taste of your food (leaves the roof of your mouth uncovered)
Protecting your existing healthy teeth. Placing a tooth-supported bridge may sometimes require smoothing/grinding away the surface of adjacent teeth (to the missing tooth or teeth) thereby destroying healthy tooth surfaces (to allow a replacement tooth hang off the tooth neighboring the missing space). Dental implants are within the jawbone and do not affect neighboring healthy teeth. They also help prevent healthy, adjacent teeth from drifting into the empty space.
How many implants do I need?
Dental implants can be used to replace anywhere from a single tooth, to several missing teeth or an entire set of teeth. All the common forms of tooth replacement, such as bridges or dentures can be supported by dental implants.
If you are missing one natural tooth, then one implant will be needed to provide a replacement. However for larger spaces created by two, three or more missing teeth it is not necessary to have one implant per tooth. The exact number of implants will depend on a number of factors including the quality and volume of bone at each potential implant site. To replace a full set of teeth 4 implants are normally used per arch.
Click here to find out more about Dental Implants.
Want to know more?
At our dental practice, we don't want you to feel pressured into undergoing a treatment or procedure with us. We believe a happy patient is an informed patient, which is why we're proud to offer the time and support of our treatment co-ordinators. A treatment co-ordinator is a dedicated dental nurse trained to give you the support and advice you need to make decisions regarding potential treatments.
Treatment co-ordinator sessions are:
Available to both new and existing patients.
Sessions with treatment co-ordinators are held in a dedicated meeting room with a tea/coffee or water refreshment available.
Trained dental professionals there to advise, recommend, and guide.
Ascertain whether a treatment is or isn't right for you.
All appointments are free of charge and commitment free.
Call us on 0115 9254169 to book in for your FREE session today.