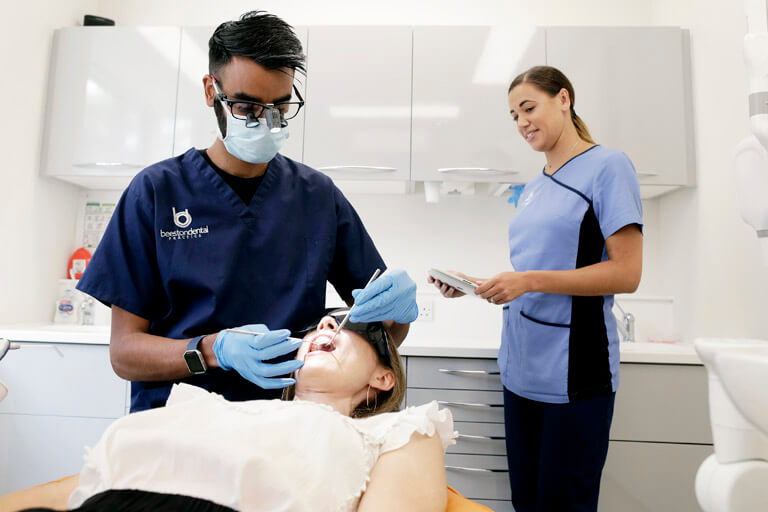 5th September 2019
Top tips from an NHS dentist on dental hygiene
There are top tips from the professionals you'll be missing out on if you haven't seen your NHS dental in Beeston for a while. In the meantime, while you plan to book your next appointment, here are our tips for the best dental hygiene and dental health for you to practice at home.
Learn to perfect your tooth brushing technique
It's fine to brush your teeth twice a day (which you should be doing anyway) but are you brushing them correctly? Brushing your teeth with a lot of force and pressure doesn't necessarily mean that this is the best cleaning method. You don't have to scrub away aggressively for a deeper clean, because that damages and irritates your soft tissues in your mouth (the gums). It's advised to brush at a 45-degree angle and use short back and forth strokes that aren't too hard. If you're noticing the bristles on your toothbrush turning outwards sooner than you anticipated, then it's a sign you're brushing too hard. Remember rotating the brush round to the back of your teeth means that the surfaces are not neglected.
Don't forget to floss!
Flossing is one of the most neglected at home dental hygiene tips there is. It's just as important as brushing, and nearly every adult in the UK has experienced some form of gum disease in one severity or another. Flossing helps to prevent gum disease, which is a leading case in tooth loss, so maintaining healthy gums could also help you maintain your teeth. Remove any food debris and plaque once a day before bed by remembering to floss.
Don't miss out on mouthwash 
We all know mouthwash leaves your breath minty fresh, however we want to let you know that it also has dental health benefits. Using an antiseptic mouthwash helps to kill the bad bacteria in your mouth and the enthusiastic swilling and rinsing of mouthwash also helps to shake loose the remaining food particles. It's almost likened to a slight liquid exfoliation for your teeth.
Cut back on smoking
Your NHS dentist in Nottingham wants you to know how harmful smoking is to your teeth, gums and breath. Smoking can trigger off the onset of tooth loss because of how it latches on to your gums. It also triggers changes in your mouth, making it easier for increased levels of plaque and tartar to build up, which will need to be professionally removed before it worsens the condition of your gums and teeth.
Your NHS Dentist
The NHS is a beautiful thing, because it allows medical professionals and dental professionals to make their services as accessible possible. We combine private dentistry and NHS dentistry at our dental practice, so you can receive the best of both worlds. NHS dental care is something we take very seriously at our Nottingham dentist. Our NHS provided in our well-equipped surgeries; our friendly team take pride in making your visit pleasant and comfortable.
If you want more information about our NHS dentist, or to book a consultation contact us at Beeston Dental Practice today.