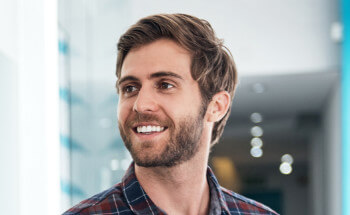 24th February 2020
Benefits of single implant treatment
It's hard to pretend your smile is genuine if you're unhappy with your gap or missing tooth. This is where a single implant treatment might just be your saviour. At our dentist in Nottingham, we'd be happy to get you started on your single implant treatment to bring your smile back to life. Here of some of the benefits of receiving single implant treatment.
No way! That's an implant?
One of the biggest fears is receive an implant that looks bulky, discoloured and overall visibly fake. At our dentist in Nottingham, our implants are carefully crafted to look and feel exactly like a real tooth, mimicking the colour of your original teeth too. They are made to blend in with your existing teeth as much as possible so that you won't have to worry about people noticing it's an implant. You will no longer have to shy away from smiling with your work colleagues or refuse to have photos with your friends – our implants can help bring out the best and confident version of yourself.
Stop right there, don't move!
When tooth loss occurs, over time if that gap isn't filled, your existing teeth next to the gap can start to shift into that empty space. This can affect the way your bite forms, the comfort of eating and the overall structure of your smile. Don't wait until it's too late, fill the gap as soon as possible to prevent changing the position of your jaw and teeth. If you receive a dental implant in Nottingham just in time, the teeth next to it will feel snug and secure.  As our dental implants are made from materials that work well with the human body, they are safe, reliable and if taken care of properly, could last you a lifetime.
Caring is key
Just because the tooth is false, doesn't mean it shouldn't be taken care of like every other tooth. Having an implant can sometimes help people to stick to a regular cleaning routine as they know how precious teeth really are and how losing one can affect their confidence. Just like normal teeth, plaque can build up onto the implant too, so make sure you are regularly brushing and flossing. If the proper care is given to your smile, not only will your teeth shine, your confidence will, too.
If you want more information on single tooth dental implants in Nottingham, or to book a consultation, contact us at Beeston Dental Practice in Beeston today!