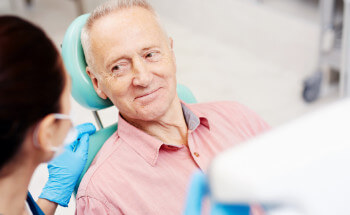 13th November 2019
A guide to dental implants
If you're thinking of having dental implant treatment, it helps to know the process inside out. In this post, we'll go through each step of having this safe, common treatment and help reassure you of any worries or questions you might have.
Consultation
Whether you have one missing tooth or many, we'll first book you in for a consultation with one of our skilled dentists to assess your suitability and give you our recommendations. We'll talk you through what the procedure involves, from opening a small hole in your gum to inserting the tooth, and will provide you with plenty of time to ask us any questions about your treatment and aftercare.
Treatment
The time period from consultation to treatment itself can take a few months, and there is also healing time required between inserting the titanium rod for your new tooth (which acts at the tooth rot) and adding the crown. Once the treatment is finished, your tooth implants will look as good as natural ones – and are just as durable. In fact, they are made to match the rest of your teeth, so it will likely be difficult to tell that some of your teeth are actually dental implants. The implants will also feel much more secure in your mouth than alternatives, like dentures, giving you complete confidence to smile away.
Aftercare
Although tooth implants are artificial, they should be looked after with the same great care as your natural teeth. This means brushing twice a day, plus flossing or using interdental brushes – a special type of small toothbrush that can slide between teeth for more thorough cleaning. We also advise cutting down on smoking or quitting altogether, as smoking can stain your teeth and affect your oral health. Finally, you can use a mouthwash between brushing to keep your mouth feeling fresh and 'clean'.
Still deciding?
If you're still on the fence about having dental implants, here are a few fast facts to help you make a decision.
– Your new tooth/teeth will look and act like natural teeth
– With proper care, your new tooth implants can last a lifetime
– Dental implants can ease the risk of further bone loss
– The procedure is minimally invasive and won't impact on your other teeth
Book in for a consultation today
Here at Beeston Dental, based in Nottingham, we want you to feel confident about your care. If you're looking for an implant clinic to give you the dental implants you've always dreamed of, or even if you're looking for other treatments like whitening, please get in touch with us today.